Jewelry Stores Email List and Jewelry Contacts Directory
£500.00 £900.00
Jewelry Stores Email List and Jewelry Contacts Directory
Description
Jewelry Stores Email List and Jewelry Contacts Directory

You can use B2B Email Marketing List for the Following B2B Marketing Avenues
Social Media Campaigns
Bulk Email Sending
Off-Page SEO link building via Guest Post Outreach
Competitor Market Research
Phone Calls
Direct Mail Marketing
Approximate Breakdown of the B2B Leads
Total Emails: 12,464
Total Sites: 12,964
Total Addresses: 4,311
Total Telephone Numbers: 10,481
Total Social Media Links: 28,158
What you will receive
Free Lifetime updates
Business Data in Excel File
Data Sources - Jewelry Stores Email List and Jewelry Contacts Directory
Trade Shows and Exhibitions
Search Engines
Social Media
Subscribers
Google Maps
Directories
Why Choose Us
Comprehensive Data compiled from multiple data sources
Verified B2B Mailing List
Cryptocurrency accepted
Free Updates for Life without any Hidden Charges
Download the file from your member's area as soon as you have checked out
Here is how B2B Marketing List will Add Value to Your Business
Acquire New Clients
Sell your products or services
One-click solution
Rocket your B2B Sales
Here's what the Jewelry Stores Email List and Jewelry Contacts Directory contains
Jewelry Stores Email List and Jewelry Contacts Directory comes in an Excel spreadsheet file. Jewelry Stores Email List and Jewelry Contacts Directory contains following business data records:
Email
Website Meta Title
Telephone Number
Site Meta Description
Business Address
Company Name
Company Social Media Pages

Jewelry Stores Email List and Jewelry Contacts Directory
Our Jewelry Stores Email List consists of contact details for virtually every jewellery store across all states in USA, UK, Europe, Australia, Middle East and Asia. Our Jewelers Database contains emails, addresses, phone numbers, social media links, websites and much more. Ideal for B2B marketing. FREE LIFETIME UPDATES. Our Jewelry stores email list comes in separate Excel files divided according to the geographic locations of jewellery stores: UK, USA, Europe, Middle East, Canada, Australia and the rest of the world.

Our Global Database of Jewelry Shops is ideal for jewelry designers and wholesalers or anyone else looking to sell to jewelry shops across the world. Our Database of Jewellery Stores has been created from multiple sources such as the most popular search engines, Google maps, business directories and social media sites and is meant to save you time and money.

Once you have purchased our Database of Jewellery Stores, you will receive access to the latest database of jewellery shops inside your member's area which will be available to download. All future updates will be automatically located inside your member's area.

Approximate Breakdown of Global Jewelery Stores Database
Europe: 3,500 entries
United States: 6,300 entries
Rest of the World: 30,000 entries
Sample Data from Our Jewellery Stores Database
The below screenshot is just a brief sample of how our data is presented inside the jewellery business database. There are more fields further along (the screen capture could not capture it in one frame). The database covers the following fields:
Website
Email Address
Tel No.
Address
Social Media Links
Some additional data that we used to scrape the database
Sample 1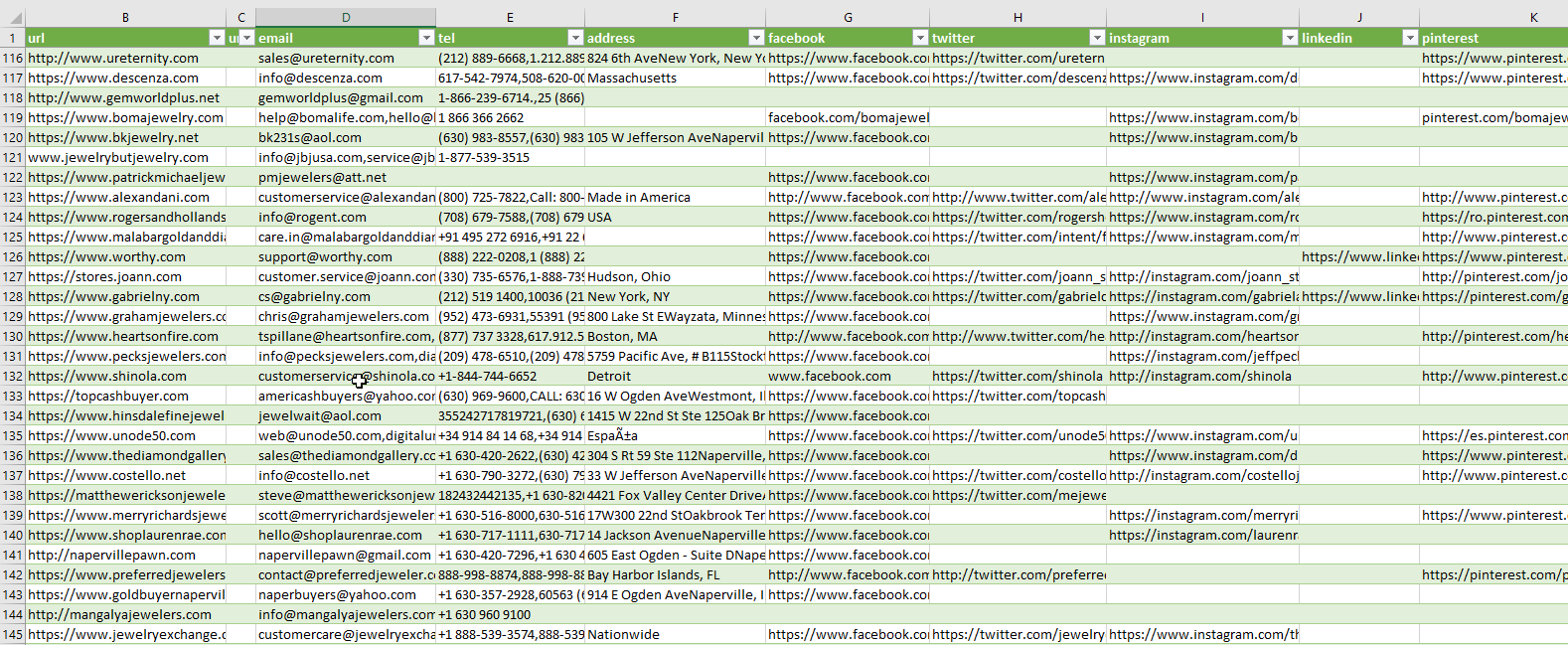 Sample 2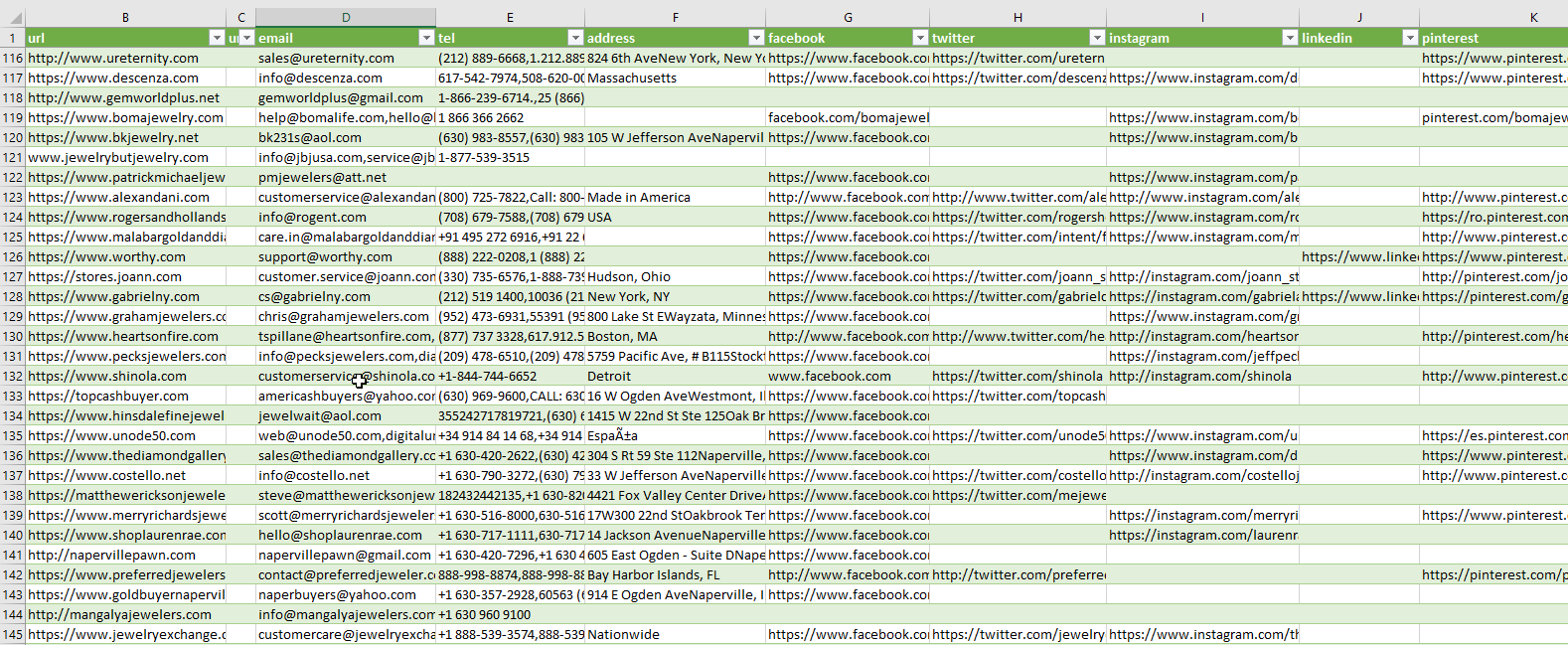 How We Created Our Jewelery Stores Database
Let us start off by saying that we do not re-purchase B2B leads from other suppliers, we create and update our own database of jewellery stores using our proprietary search engine scraper, thousands of private proxies, fast internet, uber powerful servers and our trained data professionals. We have scraped the jewelery store marketing data from all the major search engines, maps, social media and business directories. We have used many targeted keywords and locations of every country and city. We have divided our database into three separate files: USA, Europe and the rest of the world. We are confident that our database is the most extensive and comprehensive jewelery store B2B marketing list in the world. We are constantly updating our database by scraping for new jewellery stores and businesses 24/7. Whenever we feel that there is a substantial number of new jewellery businesses, we add those to the database and upload it onto our server. The latest updates will be accessible in your member's area, so make sure to check it on a regular basis.
Ways in which you can use the Jewellery Business Data
Newsletters
Telesales
Emails
Social Media Campaigns
Direct Mail Marketing
Market Research
Guest Posting to Improve your website's SEO (this is a very good way of doing a guest blogger outreach to targeted sites to improve your brand's exposure and quality backlink profile)
A Quick Overview of the Global Jewellery Store Database with E-Mail Addresses
You will receive a global jewellery store database with e-mail addresses. The jewelry database comes in an Excel .csv format and covers most English-speaking and non-English speaking countries. The database contains the following contact details for jewellers and jewellery stores: websites, emails, addresses, telephone numbers and social media links.

This marketing list is ideal for all sorts of B2B marketing, including e-mail and newsletter marketing, social media campaigns, direct mail, telesales and other channels. This database is especially popular with jewellery designers, wholesalers, manufacturers and distributors who are looking for more selling channels.

You will receive free lifetime updates. We update our databases very regularly.

This B2B marketing list was created using the Search Engine Scraper by Creative Bear Tech, one of the most powerful search engine scrapers on the market with an ability to harvest niche-relevant B2B leads. All the scraping is done on our powerful dedicated servers and a pool of thousands of private dedicated proxies.

The database is GDPR compliant. Please read our GDPR policy.

Jewellery Stores: An Overview
Jewellery isn't just about shiny metals and plenty of money. For some of us, it's sentimental. How many of you wear an engagement ring on a day to day basis? It might come as a shock to you, but in the United States alone, the jewellery trade was worth $34.63 billion in 2017.

And despite the economic downturn of the last decade, precious metals just keep continuing to rise in value. There's a very good reason why countries like the US invest in gold for their Federal reserves. Why trust Fiat Money when gold is such a stable commodity? This in itself bears all the 'hallmarks' of an award winning industry just waiting for you to get a slice of!
How does Jewellery help?
Precious metals and jewels have a stable value. Markets across the world rise and fall as international markets move beside each other. When the US economy crashes, the rest of the world feels it. But metals have a set value.
Who can it help?
So who exactly might benefit from our greatest collection of contacts in the industry? After all, we've got our own dedicated men and women, armed with cutting edge technology, to collect relevant contacts and compile them into this superb archive; the result of five years of hard work. Well, here's who:
Budding entrepreneurs looking to step into the market
Experts in market research – Cut the finding in half and have the contacts at your fingertips!
Investors – Maybe you're looking to hold your own gold supply to weather the economy...
Jewellery makers – Have your own production company? Know exactly who to sell to.
Introducing our targeted Jewellery Store Mailing List
Whether you're just starting out, buying and reselling gold, or whether you want to turn that successful business into an international success, you'll find all of the following included in this unique package:
Names and Addresses of Jewellery stores big and small across five major countries
E-mail addresses and contact details for almost every single one of them!
Telephone numbers and direct dials to net you those deals.
Links to social media pages across all the major platforms
Much, much more.
Why choose us?
Our mailing lists have been made simple, coming readily formatted into an Excel .csv spreadsheet, and even come grouped by country of your choice so that you can tailor your campaign for the locale of your choice.

And it's not just a one-off purchase. This product comes with full support and periodic updates. This way, you'll know that as companies fade, and individuals fall from the industry, you'll still have the latest version. What's even better, that support is completely free.
The applications of our Jewelry Stores Email List
So what exactly can you do with our extensive B2B mailing list? Well mainly, send your sales into orbit! You see, it's not just selling to customers that nets you sales.

Produced your very own brand of necklace ready for production but lacking for where to sell it? Access the comprehensive B2B Lists we provide, and you'll have a wealth of potential clients in minutes!
Are you lucky enough to have a sizeable startup and want to cash in on buying unwanted Gold? Set up a retail mailing list and start getting the lay of the land. You'll find out whether your money will be well spent before laying down the funds with effortless market research!
Looking to maximise your profits by finding the best wholesalers? Why stick to one when you've got the virtually definitive guide to every single one, and getting the best quality, for the best price?
Jewellery is fast becoming more than just a precious metal to wear on your finger. It's an extremely expensive industry which has stood the test of time, and it's only been growing for an entire decade. There's no better time to cash in.

Our product has already headed countless small, fledgling businesses increase their profits through efficiency. After all, efficiency is productive laziness!
Using our Database of Jewellery Stores to your advantage
Jewellery Newsletter Blasts
Newsletters aren't always about the new hallmarks, warnings of conflict diamonds, and grim forecasts of an industry which has none. With this comprehensive list of contacts, dropping those names and addresses into the subscribers means undercutting the competition with a herculean news blast has never been easier!
Jewellery Promotional E-Mails
Emails are tried and tested. Everyone who's ever owned an email address has received advertising through this mass digital media. Harness it! With access to digital communications of every jewellery store in your selected country, what could be better than knowing you've got your promotion and ideas to every single one of them from the comfort of your bed, while they're on the way to work in the pouring rain again?
Jewellery over the phone!
In a world that's becoming more and more impersonal, sometimes the magic touch is to bring the intimacy of the business deal back in play. And with a list of every phone number imaginable, there won't be a single person in the trade you couldn't reach. You never know, you might just score the deal with of a lifetime with a smile, and a friendly telephone voice. It's twenty-four carat success.
Golden Opportunity Online
Social Media is, well, just that, social! And it's not just friends and family with their own pages. Did you know that social media is very quickly becoming the most popular way for customers to leave feedback to businesses. And that nearly half of all customers now expect a reply to their queries on the same day? It might be widely popular, but every cloud has a silver lining, and that's reaching out to future customers, experts, and businesses in a universally acceptable platform!
Collaborative Media
Sometimes, even the brightest idea needs the backing of others. Think of that $43 billion dollars up for grabs each year from the industry. Imagine just 0.1% of it being used to promote your new idea. If $43 million of promotion by collaborating with the industry giants doesn't make your stomach feel giddy, then nothing will. So get collaborating. It's never been easier with our B2B contacts!
The perks of our Jewelry Stores Email List, Jewelry Stores Leads, Email Mailing List of Jewelers and Jewelry Stores
By picking up our product, you'll have access to your download immediately upon payment. No waiting to get started. Your B2B sales lead will be available straight away, so you can spend less time dreaming, and more time doing.

No monthly fees. Don't let other providers trick you into paying for what we provide for nothing, as updates to the contact lists are free, so you can breathe easy and maintain that undeniable market advantage for life. You'll be left with only the very best of the industry.

We've even provided a sample of our listings, so you can even check out the quality for yourself. You can't put a price on accuracy.

And quite simply, we're the best at what we do. We have over seven hundred lists for niches you might not have even known existed! You'll find whatever you need here!
Jewelry wholesale email list B2B sales leads
We are happy to announce that we currently attended our 3 million business records. Our research team has conducted thorough research about all possible B2B marketing strategies. Each division of the research team conducts a small survey of their field leads their productivity has proved to be a great tool for many businesses houses. We completely understand that it's not easy to create the right target list for your products. And if you are new to the market it seems to be impossible. But whether you are old or new our jewelry wholesale email marketing list will tremendously help in the lead generation of your business.

We have seen many marketers with tremendous potential has failed severely due to a lack of the right audience. For example, if you are in no possession to buy a car right now then even though a very good quality car deal is offered to you, you will certainly deny it. It doesn't mean the quality of the car is bad but it is only that you don't need a car right now. Similarly reaching out to the wrong audience is as good as not putting any effort to make a deal. So it is extremely important to outreach the right audience to generate your sales. And our jewelry wholesale email list contains all possible contacts of jewelry shops and companies whom you can outreach and generate your revenues easily. Our research team never fails to provide you all possible contact lists compatible with all B2B marketing formats of this sector.
We are more confident about our database due to the relatable resources from where we collect them. The most vital sources where we collect our data are - All the jewelry trade shows and exhibitions all over the world, All Amazon and eBay jewelry product brand, jewelry Business Directories, Global Search Engines, Business Directories, Wholesale and Trade Directories, Social Media: Instagram, Twitter, Facebook, LinkedIn.
Our list will enable you to effectively start your email marketing campaign with the emails of your most reliable leads provided in the list. Finding the correct email list has also been an issue for many companies. But luckily we have done most of the heavy lifting of your journey and brought to you a well-prepared email list of jewelry wholesale marketers. 
To keep our jewelry industry email list more relatable our creators have used special content filters attached to the website. As a result, our web search grabs the results only where key-words related to the jewelry industry are inserted. Thus it enhances the allover precision of our data.
Our support team is happy to address any of your issues related to lead generation. And we also provide lifetime free of cost updates to our database. Once you buy our core database we will always update the list with new and fresh leads for your business.
-44%
£500.00 £900.00
-44%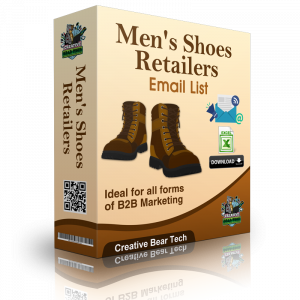 £500.00 £900.00
-44%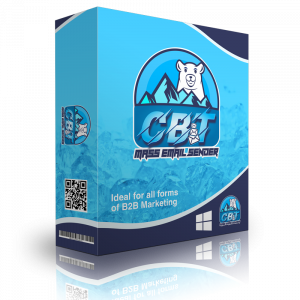 £500.00 £900.00