Removal Companies Email List - Database & Mailing List with Emails
£500.00 £900.00
Removal Companies Email List - Database & Mailing List with EmailsOur Removals Email List comes in an Excel spreadsheet and is the bridge that will connect your business with all removal companies in your country or even internationally. Our Removal Companies Database &...
Description
Removal Companies Email List - Database & Mailing List with Emails
Our Removals Email List comes in an Excel spreadsheet and is the bridge that will connect your business with all removal companies in your country or even internationally. Our Removal Companies Database & Mailing List with Emails contains all the contact information you could need and comes with FREE lifetime updates.

Making big jobs, smaller!
It's a great time to be in removals! With over 650,000 new home loans approved last year, this is awesome news, as that's a wealth of new clients to be moving from house to house as it takes off alongside it. After all, nobody has enough room to pack all their worldly possessions into the back of their first car once they're about to move to their second house!
But with needs in commercial, residential, and even in legal services, removals is an expanding industry where being needed is heavy work, literally!

So why call the removal truck?
If you've ever chosen to move to a new home, you might realise just why the removal industry is a much needed public facility.
It allows clients to keep all of their goods together in one place, and provide protection in transport.
It's much more fuel efficient to transport a large amount of goods in one journey than to make multiple, especially over long distances.
Large corporations and debt collectors provide a source of income during repossession companies, including removing vehicles.
Introducing the ability to find them all!
And we give you the ability to contact them in any number of ways! With our unique B2B database, you'll find names and registered addresses of every removal company currently in existence in the country of your choice, including phone numbers, email addresses, and even giving you links to social media pages for all the very best companies! You'll never be short of choice!
But who could need such a list?
It might seem like a strange gift to possess, but think of all the benefits!
If you're a van tradesman looking to sell vehicles en masse, removal companies need reliable transport to keep client goods mobile!
If you're a start up debt collection agency needing to source an affordable deal with an accommodating firm to ensure the job gets done professionally.
But why choose us?
You choose us simply because we're not like our competitors. We've been successfully networking for the last five years so you don't have to. We've attended seminars, marketing events and more to get your the masterfully compiled B2B database and B2B mailing list you're presented with today. Think of it as the advantage you've always wanted.
All of the data we have collected is accurate, and provided by real people who working within the industry doing the job, and they all know their stuff! All you have to do is put it into practice!
And those who already have are seeing the benefits today!
But how do you take advantage of this B2B marketing?
Removal Proposals
Finding a company to be your main provider has never been easier. Mass marketing is as simple as choosing your target audience from our wonderfully concocted list, choosing the very best at not so much as a glance, dropping them into your subscriber list, along with that business enhancing proposal, and sending it right off. Before you know it, you won't just be settling for the first deal which comes back to you, you'll have the choice of exactly who you want to deal with!
Removal Emails
Conversing with your customer base is quick and easy. But what if you need to drive that new partnership and build a bigger fleet for the expansion? That's where our B2B contacts come in handy. We have a lead for just about everything! And when you find that perfect company that's chomping at the bit to create a rewarding partnership, you may not have even had the chance without our product!
Telephone driven sales
Nothing is quite as personal as entrusting a pair of strangers to pick up your worldly goods, and load them all into the back of an enormous truck! So why should striking up your next business deal be quite the opposite. Use our sales leads to call through to exactly who can give you what you need, and let the silver tongue do the work!
Removing... Socially!
Find out what irks the customer, and what they really want from their removal guys. With access to social media pages across the world wide web, you'll see the horror stories, the good, bad and the ugly. It'll also provide you with countless opportunities to hit the nail where all others fail! You can that rhyme on us!
So many benefits of our Removals mailing list...
While clearing out a house may be your art form, or your passion, information is ours! All of our data is 100% accurate and provided by very real people in the removals industry!
We don't trap our customers with the small print, unlike many of our competitor products. We don't charge any monthly fees for continued or enhanced access to our B2B lists. In fact, we don't charge you anything at all beyond the price advertised. No admin costs, handling or shipping fees. In fact, access to our product is instant the moment your payment is confirmed. Now that's getting a head start straight away!
Start experiencing success before making a purchase by taking advantage of our free samples. Get a taste of our confidence!
Why give your business anything less than the touch it deserves?
And for those who order their products with European country leads, all of our data is 100% GDPR compliant, meaning you're purchasing more than our B2B leads, but purchasing peace of mind! And everyone knows there's no price too high for that!
Order today!
0 Reviews for Removal Companies Email List - Database & Mailing List with Emails
-44%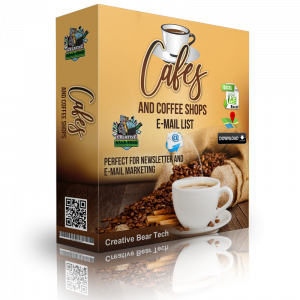 Global Database of All Cafes and Coffee Shops with Emails
£500.00 £900.00
-44%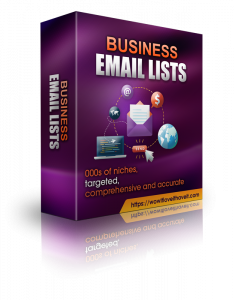 Radio Stations Email List - List of All Radio Stations
£500.00 £900.00
-44%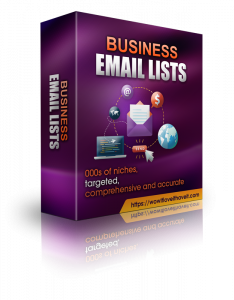 Telephony and Wireless Email List and Business Sales Leads
£500.00 £900.00