Multimedia and Graphic Design Email List
£500.00 £900.00
Multimedia and Graphic Design Email ListMultimedia and Graphic Design Email List contains contact details for multimedia and graphics design companies. Ideal for all forms of B2B marketing, including telesales, email and newsletter...
Description
Multimedia and Graphic Design Email List
Multimedia and Graphic Design Email List contains contact details for multimedia and graphics design companies. Ideal for all forms of B2B marketing, including telesales, email and newsletter blasts, social media campaigns and more. Free lifetime updates to the B2B database. Instant access to the Multimedia and Graphic Design Companies Marketing List upon purchase. Download now.
It's 8am in the morning, and you reach out for the phone beside your bed. You open up Instagram, and start scrolling through your boring feed. There's nothing to see, and you tap into the explore page. There, you see a multitude of pictures and videos of brands that you may, or may not know. Have you ever wondered who are behind the scenes of those posts? The answer is, multimedia and graphic design companies.
What Do They Actually Do?
Multimedia and graphic design companies provide the most critical aspect for nearly every business. Multimedia companies are modern loudspeakers. They get your products and services out there. It's all about attention now. Whoever gets the most attention thrives. You can be the best in what you do. But, if you're not known, it doesn't matter.
Why Should You Get Involved In The Multimedia Industry?
For simplicity's sake, let's niche down into the digital marketing sector. I know, it's an umbrella term that covers a lot of area. But that's what the trend suggests, because that's where the money is. With over $111B spent on digital advertising in 2018, it's no surprise why multimedia companies are growing rapidly.
Let's take my idol, Gary Vee for example. In the span of 10 years, his company, Vaynermedia grew from a 30-men company into a giant with over 800 employees now. And, the numbers suggest that Vaynermedia makes an astonishing $218.3M a year! This is just one of the examples, demonstrating the potential of the multimedia industry. And, it's certainly why you should get feet wet in this.
But How Do You Tap Into This Industry?
At Creative Bear Tech, we provide the most accurate and comprehensive B2B contact lists. From names, to emails and phone numbers, we grow our customers' business by extending their outreach potential. It's literally 10X the outreach with us. 
Read along for more information.

Who Can Use This Email List?
Digital Marketing Companies
It's official. Everybody knows that multimedia companies are huge on digital marketing. They are usually agencies that provide end-to-end marketing for their clients. But, not everyone of them has a strong marketing team. That's where you shine.
It's not always about making money; It's about helping one another. Team up with a multimedia or graphic design company and expand your business. Show them what you can bring with your expertise. And let them do the same for you.
Don't wait, chance favours the prepared mind. Grab your copy of our Multimedia and graphic design B2B database today!
UI/UX Design Team
As you know, our attention span is dropping. Research shows that our average attention span is only 8.5 seconds now, compared to 12 seconds in the 2000s. And this the chance for you UI/UX designers. Any big companies will outsource their job scope at some point of time. This is where you step in, and make it easy for your clients.
Don't worry, multimedia companies are not only limited to Instagram posts and videos, they do web design as well. Plus, you can always apply design thinking to everything you do. Show them you're worth their time and money.
Sales Team
Multimedia companies are experts in creating content that appeals. But, they may not be experts in sales. And that's where they can find value in your work.  Persuade them with your innate talents. Ramp up those sales volumes to the next level.
Don't wait for things to happen. Get our contact lists and start closing them.
How Is Your B2B Database Created?
If you're in the digital marketing space for a while, you should know how search engine works. We ask a question, and they answer them. That's how we create your database as well, but with a slight twist.
Basically, we scrape the search engine for your B2B database. This is done by our professional IT team, coupled with advance technology. 
We perform our email scraping with content filters and domain filters. Content filters make sure that the keywords are listed in the body content of the web, meta title and meta description. Domain filters are used to create a second set of emails. This ensures that the keywords are present in the domain name.
Then, we verify the email list in three ways:
Validate the word arrangement of the email address
Validate the email inboxes
Validate the responsiveness of the domains
With our methods, we can get any contacts listed on the internet, accurately and comprehensively.
Extend Your Outreach With Our B2B Database
Targeted Email marketing
If you're a digital marketing company, email marketing is no stranger to you. Instead of spending extra money and effort generating your own leads, why not get your hands of an already-made B2B contact list? Just click the 'buy' button, and let us do the heavy lifting for you.
High-ticket Telesales
You're a great closer, but you don't have contacts. We'll change all that for you. Our B2B database has all the industry-relevant contacts that you can ever imagine. Best is, our B2B contacts are high paying customers. It's no longer the matter of finding the right person, but the matter of closing them.
Ring up your entire industry, and start making sales.
Social Media Marketing
You already know how powerful targeted Facebook ads can be. With our B2B database, it's 10X the power. Skip the hassle of targeting different interest groups. Dive right into where the money is. Set up your custom audience and channel them down your sales funnel. It's just a matter of time before you get them to reach into their pockets.
Why Buy Our B2B Database?
I'm not asking you to trust us (That's something only a shady business would ask of you.) I'm asking you to look at the results we can bring you. 
At Creative Bear Tech, we bring you the most targeted, and completed B2B database you can find in the lead generation industry.  By casting a wider net, at different angles, in the search engine, we're able to capture all your desired contacts. Simply put, we brainstorm a list of relevant keywords, and collect B2B contacts from different entry points.
Our B2B contacts have an enduring freshness. They're constantly updated in the members' area. Unlike other lead generation companies, we aren't advocates of subscription-based payment methods. You only have to pay once for our product (even for the updates!)
Rest assure that our methods of data harvesting are lawful. Rules for B2B data processing is different from the rules for private individuals. We make sure that our process is 100% GDPR compliant. We do daily screens, ensuring that any B2B contact who wishes to 'opt out' of this list are removed. Then, we immediately update them in the members' area for you. So, if you're purchasing our contact list for the European region, you'll still be a law-abiding citizen. Don't sweat over it!
We take your satisfaction seriously. Our team of friendly staffs will be on standby to provide you assistance. If you ever run into a problem with our products, leave us an email or a call, and we'll be right on it.
Outreach is never easier with our B2B Database. Order Your Copy Today!
0 Reviews for Multimedia and Graphic Design Email List
-44%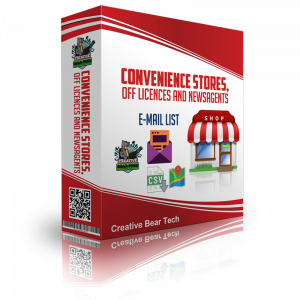 Global Database of Grocery and Convenience Stores
£500.00 £900.00
-44%
Export Companies and Exporters B2B Database with Email Addresses
£500.00 £900.00
-44%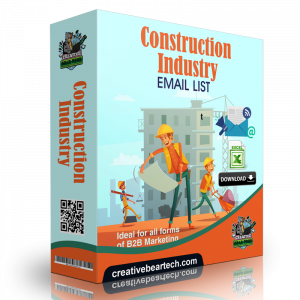 Construction Industry Mailing Lists and B2B Sales Leads
£500.00 £900.00