Mobile Phone Repair Shops Email List
£500.00 £900.00
Mobile Phone Repair Shops Email ListOur Mobile Phone Repair Shops Email List is ideal for anyone looking to sell B2B to mobile phone repair companies. Our mobile phone repair shop database and mailing list with emails covers all the mobile phone repair shops acro...
Description
Mobile Phone Repair Shops Email List
Our Mobile Phone Repair Shops Email List is ideal for anyone looking to sell B2B to mobile phone repair companies. Our mobile phone repair shop database and mailing list with emails covers all the mobile phone repair shops across the world and includes emails, websites, addresses, telephones, social media sites!
Mobile Phone Repairs: Worth it?
We live in an age where replacing is often seen as better than repairing. And when it comes to tech, it's easy to see why. Parts are getting smaller and smaller and more efficient. One error with each is enough to write off an entire system, and leave it cheaper to dispose of the device rather than attempt to get it fixed the old fashioned way.
But the mobile phone repair industry is still alive and kicking. And it's fast growing! In just two years in the United Kingdom alone, mobile phone repairs cost British tech owners £4.6 billion, and many repair shops are opening more branches as the economic downturn makes repairs more financially viable than replacement. When the latest iPhone models cost over £1,000, it's a no brainer why it's becoming more attractive!

So why?
So what can repairs bring to the table?
As mentioned before, it's far cheaper to source and fit replacement parts for faulty devices than to simply buy new ones. With iPhone screens costing up to £80 to fix, it's cheaper than spending £400 on a new device.
While breaking a device is an inconvenience, the repair schedule can often work around the client.
Repairs allow businesses to be more frugal with their equipment, especially if they're heavily technology reliant, such as financial services and health services.
Who benefits?
Put yourself in the shoes of an industry guru. A man or woman who knows exactly who to call, and with no shortages. Who could possibly have need of all of those contacts?
Repair shops looking to maximise profits by sourcing parts for less costing from their stockists.
Companies who are looking to collaborate and build on their business through other local contacts.
Any retailer looking to get an advantage over the competition through uniquely liaising with the help of our B2B contacts.
What you can find in our Mobile Phone Repair Shop Email List
Whether you're a specialist in Android, iOS, Huawei, or more, and with 37% of British smartphone users having damaged their smartphones in the last two years, it pays to have the right contacts ready to go. So with our B2B contacts, you'll find the following:
The names and business addresses of every mobile repair outlet in the country you get to choose!
Telephone numbers and email address of all of the above, so you can dial straight in for the information you desire!
Contact details for stockists of mobile phone parts at the top of the chain, so you can now negotiate a great deal on the raw ingredients that make the magic happen!
More industry-relevant social media links than you can shake a stick at!
Why choose our B2B Business Leads?
We make B2B marketing so a very simple concept to put together and execute. We even package it all together into a crystal clear .csv format spreadsheet. It makes mass B2B marketing as easy as drop, drag, and earn!
We've taken all the stress of networking away. After all, who has time to go out of their way just to talk, connect and make contacts when you've got a business to run? It's like asking you to be in two places at once! Well we've been all the seminars and used the cutting edge technology that you need not obtain, and have taken five years away just collecting all of that data from real people, at real events!
And our hard work is paying off, as we've helped multiple businesses increase their profits margins and revolutionise the way they do their daily business!
Setting up your B2B marketing for a Unique Business Advancement...
Repair Letters
Not only can people use letters for news, but in the tech world, here's a chance to make a unique impression, and warn your audience about emerging threats and how to stay safe! When you're the store known for prevention as well as literal damage control, you'll find clients seeping on in. And when sending this letter out en masse requires nothing more than plugging in your subscribers and circulating it, you can set your sights on making preparations for all that extra profit on the way!
Repairing Emails!
Emails themselves can't fix the growing pile of damaged devices, that's what you're for! And when it comes to getting the parts, or advertising that sweet promotion that's going to push you head and shoulders above the competition, what better way to do it than by surgically targeting it to the perfect audience from our B2B emailing list? Pitch your sales to exactly who needs to see it!
The Telephone repairmen
Businesses may not always be willing to collaborate or make good on bringing your costs down...
At least not by letter alone. Seal the deal with a personal touch and, quite literally, voice your opinion to who can provide what you want. It might make all the difference you need!
Socially Fixed
Technology quickly evolves, and so do clients needs. Find out what the most common problems are with user devices today. When your customers very quickly find you already know the solution before the problem, they'll be in your doors quicker than any of the competitors. Use our unique social media link package to stay current and ahead by tapping right into what the market is telling you.
The added perks of our B2B Mobile Phone Repair Email List:
Well, not only are you paying for five years of expertise and cutting edge technology in practice, but you are buying a lifetime advantage for your business! See the price beside you? That's the price for our unique and comprehensive B2B package, which we keep up to date at no extra cost. Our competitors would have you believe that the only way to stay ahead is to pay a monthly fee for their service of real-time updates. We charge you absolutely nothing. No admin fee, no monthly cost, just the price you pay today!
You will have complete, unrestricted access to the entire project from the minute your payment is processed. After all, time is precious, especially when you could be making the most of your business!
Still not sure? Give you product a while for yourself, and screen up to find the free sample. Experiment with our samples and see just what you can achieve when the contacts you have are real, relevant and authentic.
Also, if you have purchased your product for use in Europe, all of our B2B packages are GDPR compliant, so you can do your marketing with full peace of mind. Now, there's no price tag too high for that!
0 Reviews for Mobile Phone Repair Shops Email List
-44%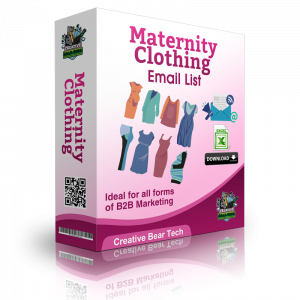 Maternity Clothing B2B Email Marketing List
£500.00 £900.00
-44%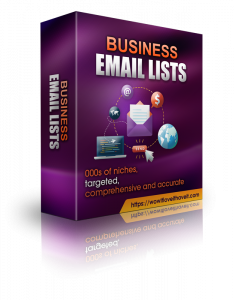 Publishing Industry Mailing List - Book and Magazines Publishers Email List
£500.00 £900.00
-44%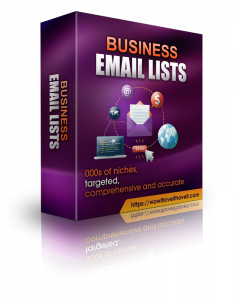 Software Publishing Email List and Business Marketing Data
£500.00 £900.00