About Us
We are the Leading B2B Lead Generation Company in London, UK Specialising in B2B Lead Generation Services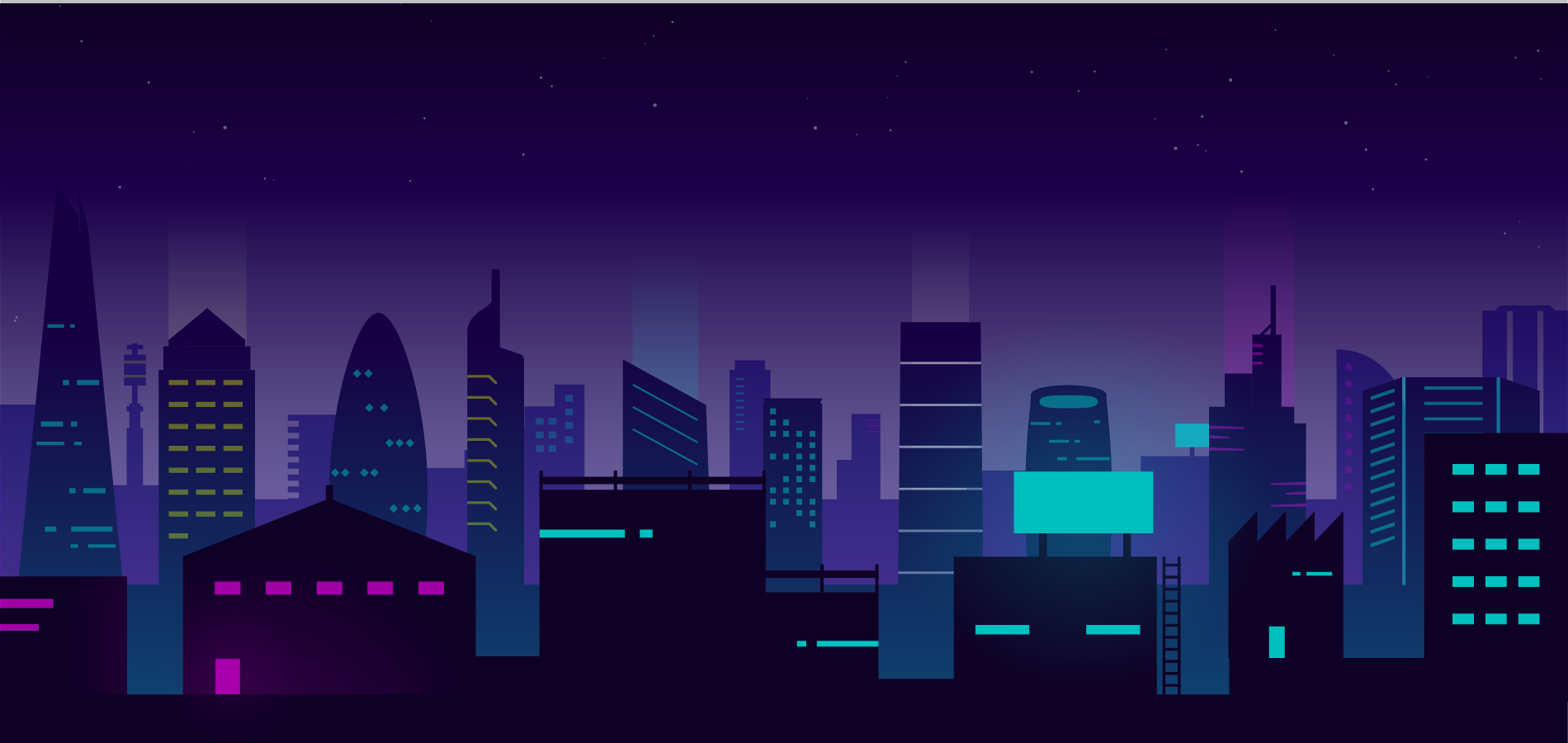 Welcome to Creative Bear Tech: Opening Statement
Hello! My name is Filiyann and welcome to Creative Bear Tech.
You are now viewing a niche-related business-to-business database. We have B2B databases for over 400 most popular and hottest industries. If you cannot find a database for your niche, please get in touch and we will create a database for your niche at no extra cost!
Global B2B Databases - 400+ Industries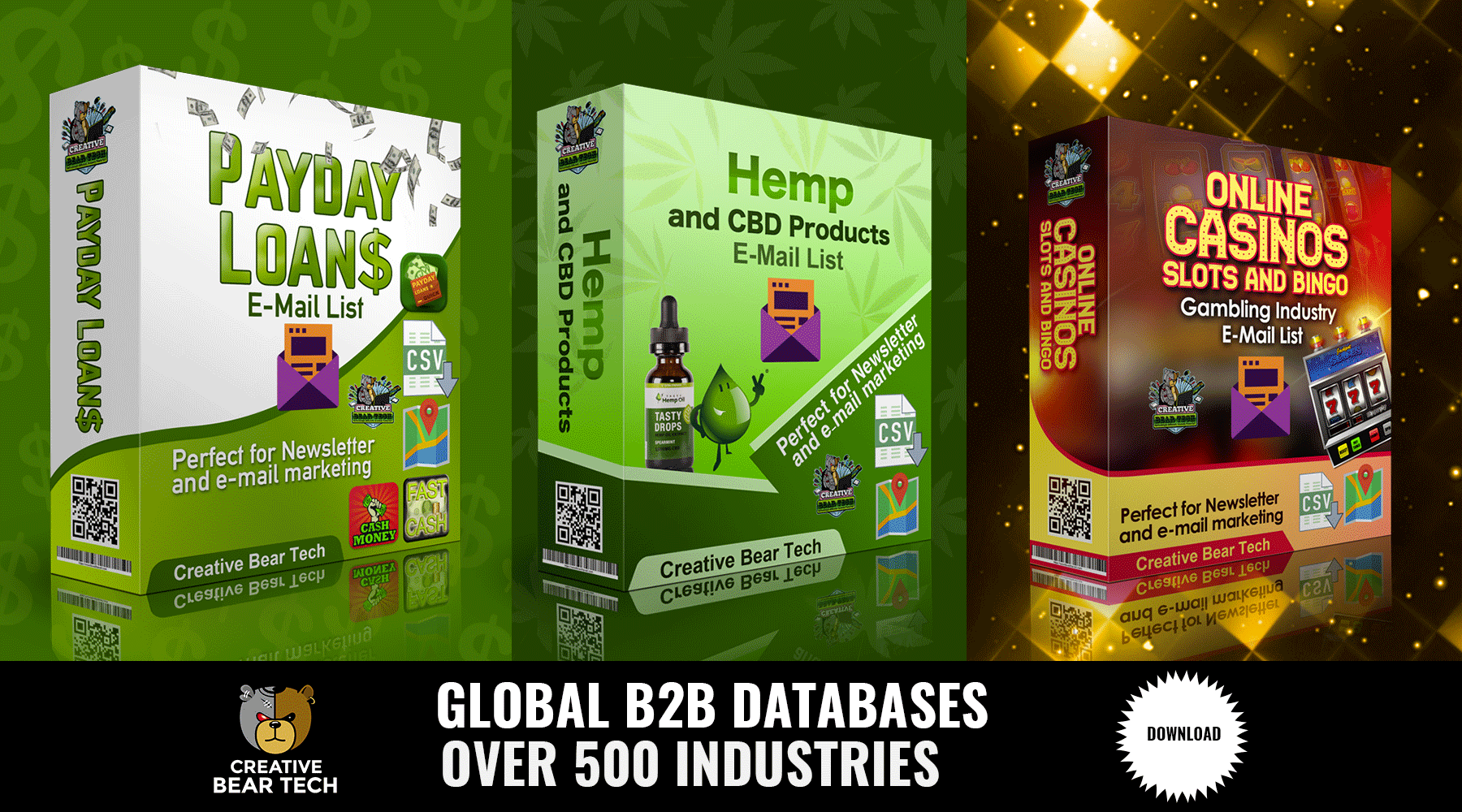 So, what is the point of our B2B databases?
Well, If you sell to other businesses, then our industry-focussed databases will help to connect you with your prospective clients. Just think of who would like to buy your products or services. If you are a hemp and CBD oil company then health stores may be interested in carrying your CBD and hemp product line. Our B2B databases have helped over 1,000 start-ups to skyrocket their sales overnight. Even large FTSE 100 companies have trusted our B2B databases. Some clients have described our databases as "Sales Steroids", "A silent sales landmine", "one of the most powerful B2B marketing tools", "a one-click solution that delivers results".
Global B2B Databases - Connecting you with your clients
Let's step back a bit. Just ask yourself the question, what is your business objective? Clearly the answer is to sell to your target clients. And this is what our databases do, they give you a list of your target clients that you can contact.
The Anatomy of Global B2B Databases
Let me give you a quick overview of what the Databases contain
Each B2B database contains contact details of businesses operating in each respective industry. The B2B databases come in an Excel file. Inside the Excel spreadsheet, you will find business websites, emails, telephone numbers, social media links, physical addresses and more.
All of our business-to-business databases are global which means that they cover most businesses from each niche in every single English-speaking country. This by default includes the United States, Canada, United Kingdom, Ireland, Australia, parts of Europe, South Africa and other countries. The databases may even capture businesses from non-English speaking countries.
If you need a custom B2B databases for a particular country, please get in touch and we will be able to create a database for you at no extra cost. 
Ways to Use Global B2B Databases
You can use our B2B Databases for newsletter and email marketing, telesales, social media campaigns, direct mail and market research.
GDPR Compliant
All of our business databases are GDPR compliant. For more information, you can read our GDPR compliance statement.
Get your copy of the Global B2B Database Now
To order a database, simply check out and go to your members' area where you will find the download links to your purchased products along with an invoice. You can come back to your members' area and download your digital products at any time. Along with your purchase, you will receive free lifetime updates which means that whenever we update a database, you will receive the latest copy inside your members' area.
If you have any questions, please reach out to us via email or Facebook!
---
Creative Bear Tech - Your innovative B2B lead generation company
We are an innovative B2B lead generation company with a state-of-the-art IT infrastructure, 5 international offices and a cutting-edge business model.

Here is what we do:

We generate B2B email lists for practically every business niche in the world. Essentially, we are engaged in BUSINESS MATCHMAKING! We will match you to your potential clients.

We mostly specialise in producing email lists for e-mail marketing and newsletters as this is the most effective and cheapest B2B marketing channel.
Why Would you Need Niche-relevant emails?
If you sell products or provide services to other businesses, you could use our international niche-relevant email list to send your promotional emails, newsletters or even do a guest post outreach for SEO backlink building. For example, if you are a jeweller who makes wedding rings, you may want to contact all the jewellery stores and wedding dress shops in the world to offer them to stock your wedding rings or collaborate with you.

As you can see, we simply connect the dots between you and your prospective client.
Here is How We Create Fresh Marketing Data Lists and Business Email Lists
Using our state-of-the-art dedicated servers, trained IT wizards, millions of private proxies and our in-house software, we scrape the search engines for each niche in every single country and city in the world! This produces practically all the businesses in every niche, in every city and every country!

As opposed to other lead generation companies, we like to cast our net very wide and create very expansive niche-relevant email lists. We employ a very cutting-edge model to scraping business leads. For local businesses, we search for the keyword and every single city and country in the world!

For example, if we are interested in email addresses of all jewellery stores in the world, we would use our root keyword "JEWELLERY STORES" and then search over 30 search engines for the term JEWELLERY STORES + City and Country. So we would be searching for JEWELLERY STORES in London UK, Jewellery Stores in Paris France, Jewellery Stores in Dubai and so on!
Here is Why We Provide the Best and Most Effective Email Scraping Services and B2B Email Lists and Sales Leads - Web Scraping Service


Here's how we keep the email lists accurate and comprehensive:
We perform our email scraping on two levels:
1) We add content filters which basically tell our software that any of the niche-related keywords must be present inside the body content of each website as well as its meta title and meta description. This helps us to scrape emails only from websites that are topically relevant. Continuing with the example of jewellery stores, we would add the following keywords to our content filter: jewellery, rings, necklace, jewlry and so on. A site that contains any of these keywords is most likely to be a jewellery store or highly relevant to the jewellery niche!

2) We use domain filters to produce a second set of emails where the website domains contain any of our niche-related keywords. Here, instead of checking to make sure that the keywords appear in the body of the text, we would check to make sure that the keywords would appear in the domain. For example, a domain name with awesomejewellery.com would be captured as it contains our keyword.

3) Once we have scraped all the niche-related emails for every city and country, we verify the entire list using a three-level technique: 1) we check the syntax of each email; 2) we check the inboxes to make sure they are active and 3) we check the domains to make sure they are working. This email verification technique carried out on our servers helps to achieve the lowest bounce rate on the market.