Publishing Industry Mailing List - Book and Magazines Publishers Email List
£500.00 £900.00
Publishing Industry Mailing ListPublishing Industry B2B Database with Email Addresses contains B2B sales leads and contact details for all Book and Magazines Publishers. Ideal for most forms of B2B marketing: telesales, email and newsletter...
Description
Publishing Industry Mailing List
Publishing Industry B2B Database with Email Addresses contains B2B sales leads and contact details for all Book and Magazines Publishers. Ideal for most forms of B2B marketing: telesales, email and newsletter blasts, social media campaigns and direct mail. Free lifetime updates to Book and Magazines Publishers Business Marketing Data. Instant access to Publishing Industry Business Data upon payment. Download your copy of Publishing Industry B2B Marketing List now!
Global publishing market is expected to generate $356B by 2022, according to a research, published by Research and Market. As countries become more affluent, people are increasingly aware of the importance of information products. They want to get their hands on good information. So, they turn to books and magazines. It's just human nature for mankind to be hungry for stories and information.
Readers are more than willing to pay for life-changing and engaging books to increase their knowledge. On the other hand, magazines are the centre of attention – providing information in the form of gossip and fashion trends.
Although trends have been leaning towards consuming information online, this doesn't kill the growth potential of the publishing market. They, too, have found footing in the digital world. By e-publishing, they're able to cover more ground globally. With more ground covered, they're now raking in more than ever.
Why Should You Be Interested In This Market?
The revenue generated by the publishing industry is equivalent to the GDP of the entire Malaysia. Think of the possibilities if you tapped into this industry. It's limitless. You could be doing business with big publishing firms. But, that's only if you had the right contacts – people who pay you for your hard work.
If you're reading this, I assume that you're lacking the right contacts. No worries. At Creative Bear Tech, we provide a 'one click solution' for you. First thing you'll see, after you've made the purchase, is an endless list of industry-relevant contacts. You can connect with all the publishers in your country (or any country you want). There's no limit to how many clients you can get. Outreach is just that simple with us.
Who Should Use Our B2B Mailing List?
Book Authors
J.K. Rowling was rejected by 12 publishers before Harry Potter became a hit. You're a writer. You captivate readers with your words, and send your message across in an artful manner. Do the same with our mailing list for the publishing industry. Make your stories known to the publishers. 
With our mailing list, don't worry about irrelevant emails. You will only find emails that bring you business. All there's left to do, is to string those words in a thoughtful manner, and send them out.
It doesn't matter if you can't get the publisher to like your work on the 12th time. Our list promises you unlimited opportunities in this industry. Who knows? Maybe 13 is the lucky number.
Freelance Copy-editors
The publishing industry has been outsourcing editorial work for quite some time. As a freelance editor, it's certainly not easy to get a consistent stream of customers knocking on your door. But, you can always choose to change your fate. The solution is right here. Our B2B contacts are not only limited to your local publishers; overseas publishers are included as well. Unlock your possibilities with us now.
Printing Companies
Publishers don't always have an in-house printing operation. It's costly to operate. Instead, they outsource them to companies like yours. Since there's a growing demand for print, it's your chance to ramp up sales volume. Link up with the local publishers, and give them your best offer. You'll be amazed at the number of publishers who need your services. Just import our B2B data into your mail merger. Then, wait for them to pay you! (Nobody can say no to your irresistible offer!)

How Is Your B2B Mailing List Created?
We've spent a long time perfecting our technique to create mailing lists that work – lists that guarantee returns on investment. We use web scraping to collate mailing lists for our customers. By web scraping, we're able to harvest emails from any niche in any countries (It's not illegal! Read more to find out!)
Let's me show you how it works.
Using private proxies and our in-house software, we scrape the search engines for targeted keywords in web content. Then, we cast our net wider by making a second set of emails. These emails are generated from website domains that contain our keywords. Next, we remove any unrelated emails, or emails that are not in use anymore, to reduce bounce rate. These contact details are saved into an excel spreadsheet for your use. 
That's why our mailing lists have the lowest bounce rate on the market.
How To Use The B2B Mailing List?
Email Marketing
An estimated of 87% of B2B marketers use email marketing to achieve their marketing goals. Why? Because they work! You can use email marketing to nurture your leads and makes sales. Or, you can send in a request for a guest post on a blog. Guest posts builds SEO backlinks that ranks you well on Google. Plus, guest posts on publishing companies with high domain authority ranks you even better on Google. This is best for freelancers looking to build their brand in the digital world.
Telemarketing
If you've never done telemarketing, you need to get onto it right now. High ticket sales are often closed over the phone. Don't waste your time going through websites to find contacts. All you'll hear is the voice of staffs with no decision-making power. With this list, you'll be able to ring your way into the management level. And that's the whole point of a B2B mailing list – to contact those who makes the decision to pay you.
Social Media Marketing
Experts recommend warming up your market with social media marketing. Sure, you can start marketing right now, without a targeted list. But it'll rip a hole in your pocket. Facebook Ads are 5 times more expensive now than it was in 2012, and the numbers will only go up! Our mailing list can pull your advertising cost down, because relevance score increases with custom audiences. Moreover, it takes the guessing out in the game – because it's already targeted. That means, it doesn't matter if you're not an experienced Facebook marketer, because you don't need to be one.
Why Choose Us?
Unlike our lead generation services, we make sure that our B2B mailing lists deliver what they are meant to – returns on investments. It's a relatively small investment for your company. One sale is all it takes to cover the cost. And, the sale is guaranteed, because our leads are comprehensive and industry-targeted (and interested in your business!)
Don't worry about any extra costs after the initial purchase. There's none! We provide free lifetime updates just for you. Just visit our website, and find the most updated B2B mailing list in the members' area.
We sell a peace of mind to our customers. Our data products are lawful and 100% GDPR compliant. Rules for B2B marketing are not the same as the ones for private individuals. Our B2B databases are cleaned every day. We remove all B2B contacts who opt out immediately. That's why, you can use our products without breaking the law!  For more information, please visit our compliant page. Or, leave us a message if you have any questions on compliance. We'll be glad if you asked.
We believe that excellent support should form the basis of every company. So, if you have any issues with our data products, please feel free to approach us. We'll get you going in no time.
Order Your Copy Today!
0 Reviews for Publishing Industry Mailing List - Book and Magazines Publishers Email List
-50%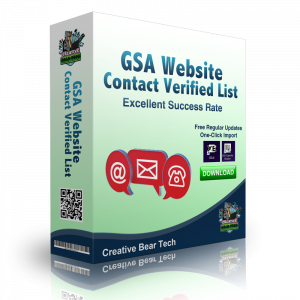 GSA WEBSITE CONTACT Verified List of Website Contact Form URLs
£50.00 £100.00
-44%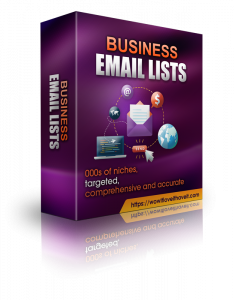 Auto Dealers Email Address List B2B Database
£500.00 £900.00
-44%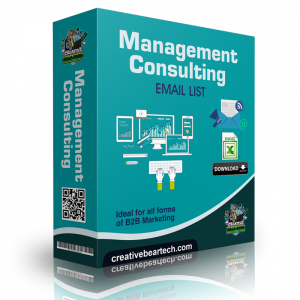 Management Consulting Email List B2B Sales Leads
£500.00 £900.00