Make-Up Artists Email List - Database & Mailing List with Emails
£500.00 £900.00
Make-Up Artists Email List - Database & Mailing List with Emails Our Make-Up Artists Email List is perfect for anyone looking to contact and sell to make-up artists. Our Make-Up Artist Database and Mailing List with Email Addresses contains all the contact detail...
Description
Make-Up Artists Email List - Database & Mailing List with Emails
Our Make-Up Artists Email List is perfect for anyone looking to contact and sell to make-up artists. Our Make-Up Artist Database and Mailing List with Email Addresses contains all the contact details you could possibly need to contact make-up artists across the world including USA, UK, Europe, Canada, Australia, etc.

Makeup, a true niche?
It's quite an unusual concept if we boil it down. An entire industry being built around the human self-consciousness. A whole market made because we dislike what we look like on the outside. While depressing in nature, it's nothing to be scoffed at.
Did you know that the global beauty market was worth $265 billion globally, and is only set to increase as GDP does the same. With so much money, this industry is a metaphorical goldmine of money just waiting to be drawn from!

But why is makeup such a big deal?
It's all good to realise how big the theoretical pie is, but why is it so big?
As a society, many of us have been raised to believe that our appearance is a huge deal, especially with how men and women are both portrayed by the media.
Makeup is also a huge feeder into the movie industry, with extremely elaborate costumes and outfits required for some of the most complex roles in Hollywood.
Makeup allows us to express how we feel on the outside, and address our own physical insecurities, so many are happy to spend the money to allow themselves to do just that.
Who benefits?
Now picture yourself as a budding start-up artist. Are you finding trouble making contacts? Well here's all the reasons you might need our help!
You're a new make-up artist looking to collaborate or team up with other industry professionals.
As a startup artist looking to broaden your skills and become better through networking with other like-minded people and boosting your earning potential.
A dedicated film worker looking to explore the best the industry has to offer and give your new production the authentic touch.
What can you expect to discover in this unique B2B package...
It doesn't matter if you've been in the trade for ten minutes or ten years, one can never have enough contacts in fashion and makeup. So much so that we have you covered. We include all of the following:
Names and phone numbers of every publicly listed or personally contacted freelance makeup artist currently practicing!
Email addresses given for almost all of the above for the more digitally savvy artists!
Business addresses for those with their own premises and physical retail premises!
Huge numbers of social media links for companies and individuals alike.
So what makes our B2B business leads stand out?
We appreciate that makeup is a very creative profession, and has a lot of collaborative scope. So much so, we've made the process of locating them simple! Choose a country of your choice upon purchase, and use the professionally built .csv spreadsheet to approach the ones which you desperately need!
After all, we've taken all the stress of networking away and done it all for you over the process of five years. You'll never feel on your own in the world of makeup artists again, when you've got a fellow artist on the other end of the line whenever you need something! We've gone to seminars, events, approached social media and made all the contacts do you don't need to! Consider our product your own personal hub of business contacts!
Not to mention our hard work has paid off, helping makeup artists all over make waves in the industry and increase their revenue by an order of magnitude!
So many ways to take advantage of our B2B Make Up Artist Emailing List...
Makeup Newsletters
Makeup is a very personal industry, and the level of detail, content and style you can put into a newsletter is inconceivable! Not to mention there are men and women out there who live, sleep and breath fashion and makeup who will read every word! Well our B2B database makes this even easier, with our simple process of plugging in your much needed subscribers to the issue of the newsletter, and sending! Your existing clients and even other industry professionals will get the letter! And when you've made friends, you'll find referrals and clients crawling out of the woodwork for your skill and design!
Makeup Design Emails
Not only can you show off your latest promotional offers on an email, but you can include pictures of your latest work to really, really establish your credentials!  And when you know your work is being surgically targeted to all the right people, you're onto a winner before you've even started!
The personal touch...
Makeup is personal, so why should the approach be the opposite? Sometimes, the old fashioned ways are the best. And there's no better way to boost the ego of an artist than someone wishing to learn all about it! Give it the intimacy it deserves by picking up the phone!
Social work!
Would you believe us if we told you that when it comes to the creative arts, many industries can expect most of their bookings and correspondence to come via social media now?
Well, it's true! So why not cash in on the collaboration game, take advantage of the thousands of page links we provide and find yourself that perfect business opportunity?
The added perks of our Make Up Artist Mailing List:
Our product isn't just a B2B mailing list, or a database of contacts. It's five years of perfection, all rolled together in one price! In fact, you can even consider the asking price as a onetime investment, because we continuously update your list with more and more contacts as the industry shapes. And the best part? We don't charge a penny beyond the day you purchase it for the privilege. No admin, no update costs, just the price today!
And there's no need to wait around for the mysteriously stealthy mailman either, and you won't need to wait for a physical disc to get your hands on what you need. You'll get complete unrestricted access to our product and all it has to offer from the moment your payment is processed! How easy is that?
And if that wasn't reassuring enough, why not start making headway early, with the free samples we've very happily provided to show you just how confident we are in your future success?
And as the icing on the cake, all of our European data is 100% GDPR compliant and has all the correct agreements in place for the use of the data provided, so you can breathe easy, knowing the price tag also includes peace of mind!
0 Reviews for Make-Up Artists Email List - Database & Mailing List with Emails
-44%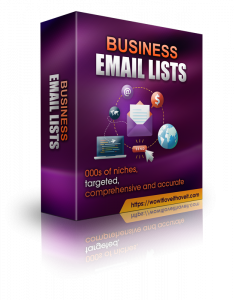 Clean Energy Technology Email List - Database Mailing List with Emails
£500.00 £900.00
-44%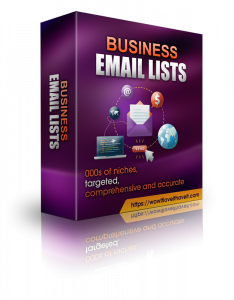 Oil and Gas Pipelines Mailing List and B2B Database with Emails
£500.00 £900.00
-44%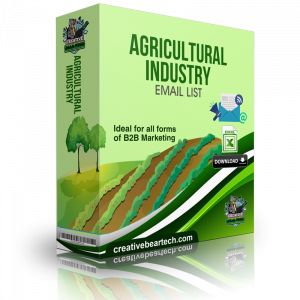 Agricultural Industry B2B Database with Emails
£500.00 £900.00