Film, TV and Digital Media Production Email List
£500.00 £900.00
The 'Endgame' to your B2B Sales LeadFilm, TV and Digital Media Production Email List comes in an Excel spreadsheet and it contains all the contact details for a list of TV, film and digital media production companies. Free lifetime...
Description
The 'Endgame' to your B2B Sales Lead
Film, TV and Digital Media Production Email List comes in an Excel spreadsheet and it contains all the contact details for a list of TV, film and digital media production companies. Free lifetime updates to your film production database. Instant access upon payment. Order your copy now!
If you're a fan of the Avengers franchise, I think I know how you feel – You feel empty (Like how I do too!). The Marvel movies meant a lot to many people. And I'm sure you'll agree that Marvel Studios created more than just good movies. They created a real connection felt by many in the past 10 years. Unfortunately, all good things come to an end eventually. While it left us both completed and empty, Avengers: Endgame blew out of the water and topped $2.7B in the box office, making it the second highest grossing movie of all time.
With movies like Avengers, it's no wonder why the global film industry revenue stands at $136B USD a year. The film and video production industry remain as an evergreen segment. Why? Because it dwells on our emotional needs. We are hardwired to need stories, and human beings are visual creatures. It's always easier to consume information with our eyes than any other sensory organs.
Plus, the numbers suggest that the film industry is not only growing but growing fast. Just imagine if you had a way to tap into this industry, and make them your loyal customers. You'll be raking in millions.
So, how do you actually tap into this industry? With the 'Infinity Gauntlet' of the B2B universe of course! Read along to find out!
The Infinity Gauntlet Of The Business Data World
Like the Infinity Gauntlet, our B2B BusinessData is truly the most powerful tool in the B2B Universe. At Creative Bear Tech, we provide the most accurate and updated film industry email list. With an endless list of contacts of your desired niche, you'll never run out of clients.
Should You Wear This B2B Infinity Gauntlet?
Remember how both Thanos and Hulk got messed up by the Infinity Gauntlet? The same goes for our Film and Video Production Services Email List. So, make sure that the databases are relevant to your niche! If your niche is not listed, drop us an email and we'll produce a B2B database with no extra charges, just for you.
This email list package is intended for:
Video Production Equipment Suppliers. Have a new product, but got a sales problem? Just ring up as many prospects as you like with our B2B contact list!
Professional Scriptwriter/Producer. Link up with a large film company, and show them what you've got! I'm looking forward to the next blockbuster from you!
Visual Effects Company. Large animation projects are usually outsourced. With a never-exhausting contact list, extend your outreach to the film companies.  Who knows that you may be animating the next Disney movie!
Forging The B2B Data 'Infinity Gauntlet'
Our B2B databases are created with a proven approach. By employing talented tech-wizards and incorporating cutting-edge machines, we collect data from the search engines. We do this for every industry in all countries!
Unlike other lead generation companies, our databases are highly expansive. Because of our unique approach, we're able to capture more leads than our counterparts.
How Are The B2B 'Infinity Stones' Collected?
To ensure that our customers are getting the B2B tool comparable to the Infinity Gauntlet, we've developed a highly deliberated system for collecting data.
First, we ensure that our software doesn't miss out any of the industry-related keywords in the web content. This guarantees that we're collecting data from topically relevant industries.
Then, we produce a second set of emails by checking the domain name for industry-related keywords.
Next, we cross-check the list using a three-step approach:
1)    We look at the arrangement of the words in the emails.
2)    We make sure that the emails are still in use.
3)    We check the domains to see if they are responding.
That's how the 'infinity stones' are collected to piece your B2B infinity gauntlet.
With this comprehensive and unique approach, don't worry about your emails being invalid.
How Do You Use The B2B Data Infinity Gauntlet?
The Infinity Gauntlet didn't come with a guide in the movies, but you'll get one from us!
Charge Emails With The Power Stone
Charge up your email marketing game with the power stone! However, if your company is in its early stages, you might want to send highly personalised emails instead. You'll be amazed at the number of emails that you can send out using our B2B data list.  And the thing is, with our B2B leads, you'll get access to ultra-high quality who are proven to turn into high-paying customers.
For bigger companies, experience the true power of this package by blasting out highly targeted emails. Take our email list, mail merge your compelling message, and take your business to the next level.
Telepathic Phone Calls With The Mind Stone
Like they said, always be closing. But, a good salesman without contacts is like a bird without wings. With our B2B contact lists, you can dial your way into the minds of your future clients. Don't worry about calling them abruptly. Names are stated accurately in our database. Use a few minutes to find them on social media. See what they are up to, and start making instant connections as you phone them!
What are you waiting for? Take a deep breath, press the buttons, and start closing them!
Social Media Marketing
Facebook Ad prices are getting steeper by the day. So don't blow a hole in your pocket on Facebook! Instead, use our B2B email list to increase your ad relevance score. As we all know, higher ad relevance score equals lower cost-per-click! In a post by Social Media Examiner, cost-per-click is 74% lower with a lookalike audience that's created from a custom audience.
Here's a 4-step funnel strategy to convert leads into clients, and clients into loyal clients!
Awareness stage - Hook your audience with an engaging post. Host a social media contest to get people talking about your brand!
Consideration stage – Show how you can solve your target market's problems. Run retargeted ads to those who've expressed an interest in your website.
Create an irresistible offer – Run ads with special discounts. Then, show them what life is like without your products.
Upsell, Upsell and Upsell – Create high quality content to educate and manipulate. Craft a compelling message to convince high value clients to make higher purchases!
Of course, it's not only limited to Facebook. Start custom targeting your future clients on the various social platforms with our leads today.

Why Should Someone Choose Us?
You'll get instant access to your B2B database once you've purchased it. Waste not a single second in of your time prospecting.
We're not illegal! Creative Bear Tech is a 100% GDPR compliant. That means if you purchase a product for Europe, you rightfully and lawfully own the data you've purchased from us! Don't worry! You'll still be a law-abiding citizen.
Our friendly customer service is here to help! If you need any assistance, leave us an email and we'll get back to you ASAP.
A comprehensive database at your service. What's more to ask for?
Order Your Copy Today!
0 Reviews for Film, TV and Digital Media Production Email List
-44%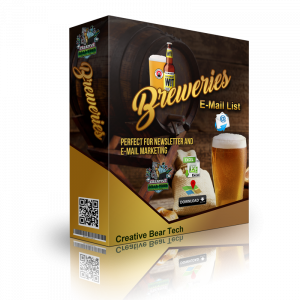 B2B Marketing Database of All Breweries and Business Email Addresses
£500.00 £900.00
-44%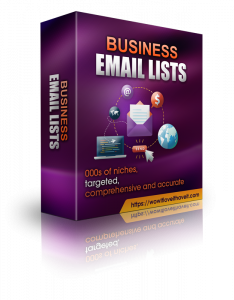 Industry Professionals Mailing List and B2B Sales Leads
£500.00 £900.00
-44%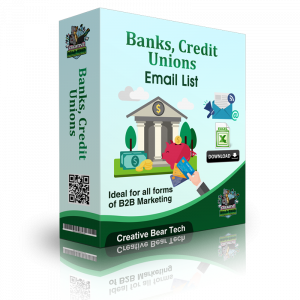 Banks, Credit Unions Email List B2B Data
£500.00 £900.00