Beauty Salons Email List - Hair Salons Database & Mailing List with Emails
£500.00 £700.00
Beauty Salons Email List - Database & Mailing List with EmailsOur Beauty Salons Email List is ideal for any business that wants to contact beauty salons with their offer or promotion. The Beauty Salons Database & Mailing List with Emails contains all the contact deta...
Description
Beauty Salons Email List - Database & Mailing List with Emails
Our Beauty Salons Email List is ideal for any business that wants to contact beauty salons with their offer or promotion. The Beauty Salons Database & Mailing List with Emails contains all the contact details for beauty salons all across the world, including UK, USA, Europe, Canada, Australia, etc. Instant download.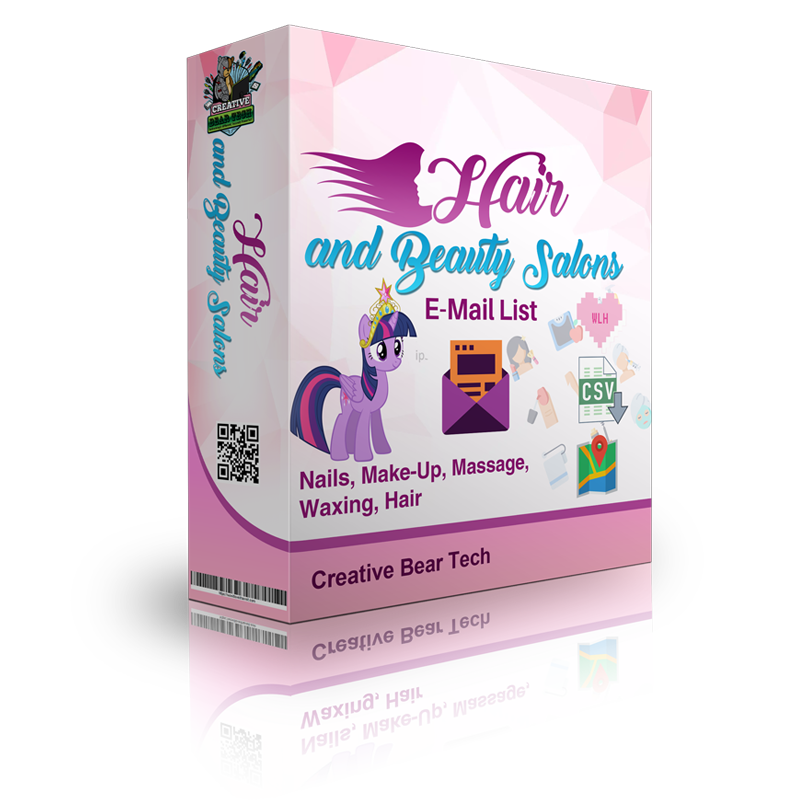 Here is How Our Beauty Salons Directory Database & Email List Can Help You To Turbo Charge Your Business
Our Beauty & Hair Salons EMAIL Address List is aimed at all businesses that target beauty and hair salons. Whether you supply beauty products, equipment or have a beauty products line, our Datase of Beauty and Hair Salons can help you to connect with virtually all the beauty salons in the world. A great thing about beauty salons is that there are many of them and most tend to be privately owned. When it comes to selling and promoting your beauty products, it is a no-brainer that you need to have a list of your prospective clients that you can contact with your offer. Producing such a list manually can be a very costly, time consuming and monotonous exercise, especially in the light of the fact that there is an overwhelming amount of beauty salons all over the world. We have done all the heavy lifting for you by bringing you this Email Mailing List of Beauty & Hair Salons. Watch our beauty salons email list transform your business with a click of a button.

Let's Get Technical for a Moment: Here's How We Have Prepared Our B2B Marketing Database of Beauty Salons
In the past, we have used a dozen of web scraping tools, but to our disappointment, they all failed to deliver in one form or another. Some scraping tools do not go far enough, whilst others produce too many irrelevant and spammy results for the marketing list to be worthy of any use. This experience has served as the key driver in us developing our very own cutting-edge website scraper that has addressed all the limitations inherent in most website scraping tools out there. To produce our Email Mailing Address List of Beauty Salons, we have scraped the most important website sources and platforms, including Google Maps, key search engines (Google, Bing, Yahoo, AOL, Yandex, DuckDuckGo!), Business Directories, Social Media Sites and other platforms. This has enabled us to produce an extremely comprehensive set of beauty salons contact details. In particular, Google Maps and specialist directories have proven to be instrumental in allowing us to compile an extensive database of beauty salons all over the world. The good news does not stop here. Our website scraper software has a set of sophisticated "content" filters that allow us to scrape only beauty salons. In technical terms, we add our list of keywords related to beauty salons (i.e. waxing, nails, pedicure, manicure, hairdresser, beauty, tanning and so on) and the website scraper will only pick up those websites that have any of these keywords present in the meta titles and descriptions. This element helps us to generate a very comprehensive and relevant database of beauty salons with laser precision. Our state-of-the-art dedicated servers with the latest software and hardware components are running 24/7 to bring you the latest updates to the beauty salons marketing list.
The Anatomy of Our Beauty Salons Sales Leads
Our Beauty Salons Marketing List comes in an Excel file and contains the following data fields:
Website
Address
Tel. No.
E-Mail
Social Media Links
Ways in which you Can Use Our Contact Details of Beauty Salons
Newsletters
Emails
Telesales
Direct Mail Marketing
Social Media Marketing
Fashion, a strange concept!
With an industry devoted to making us look the very best we can, it's no wonder it's worth $138 billion. With men and women more than willing to put down a couple of hundred dollars a visit for a range of hair treatments and styles, it's an industry worth tapping into!

Think of why you could benefit from being able to contact all of them!
We have an entire B2B database providing a unique number of B2B sales leads. And it's not just salons themselves that you can find on this:
In the country of your own choosing, you'll get business addresses and names of every salon at retail level with its own presence!
Email addresses of each and every one of the above!
Top it off with telephone numbers too!
Names and given contact details for freelance beauty stylists too!
Social media links to all of these beauty artists!
But why are such powerful contacts necessary?
Because they give you a distinct business advantage, of course!
Look to co-operate with local businesses! Think of how far you could push when you offer something another salon can't! They get your customers and you get theirs. It's a win for everyone!
Look to expand into newer premises by locating those in the perfect location for a takeover!
Working in film or other creative arts? You might just be able to get a sweet deal for your latest production if they can handle the styles!
But why choose us?
We're not just providing you with a B2B marketing campaign, or a nuclear button for your business. We're providing you with the pinnacle of modern technology and data compilation. It's five years in the making. It's a business advantage like no other. And it's an advantage which stays with you for life with our free updates!
And what's better than being connected to the entire marketplace, as easily accessible as the simple to use excel spreadsheet which comes with this ultimate business package?
We can't tell you whether the cut and blow dry will achieve the desired effect for your next interview, nor can we advise who's best to pull of the next haircut worthy of James Bond himself, but we can provide you with the details of everyone who can!
So how simple is it to conduct this B2B marketing?
Well, in fact, it's as simple as this!
Style news!
Beauty salons and human hair is an artform! Not to mention it has massive benefits to our mood to look great! Last time we had an awful haircut it made us very angry, so it's clearly true! So what better way to encourage creativity and collaboration than through your very own newsletter to all the likeminded entrepreneurs in your local area? There's someone bound to see the potential in your work!
Emails!
What's special about emails? We all know the last time you got a marketing email, you probably deleted it. Why? Probably because it was to do with something you have no interest in. Eliminate that chance, and even include pictures of your very best work to entice the best in the industry... Even better, it'll be with them within minutes with the easy to follow, drop, drag and send ability of the handy spreadsheet!
Telephone back in style!
There's nothing quite as personal as trusting a complete stranger with your hair to give you a brand new style that could spell disaster, or glory for the next while. So why should your business proposal be the same way? Pick up the phone and put the intimacy into all aspects of the sale...
Cut, rinse, blow-dry, and a range of colors!
With a whole host of social media links, you can see and keep up with all the customer expectations. You'll see pictures of all the latest trends direct from the customers themselves, and find out what all the beauty salons aren't doing, and find your own stay to stay ahead of them! Use the B2B database to it's fullest potential!
All the freebies of the beauty salon mailing list!
Don't leave your business to chance. You know that your business deserves only the very best treatment and the best advantage, so why trust anything less than the best?
After all, we don't use the evil of small print to trap you into monthly fees that you didn't ask for, nor are very fair. In fact, the price you see is the price you pay for the entirety of what you've seen! We keep it updated for free! No admin charges, delivery fees, or monthly costs.
Speaking of which, your access to the product is instant upon processing of your payment. So why wait for your mailman when you can have your own digital key instead?
And if you want to see what kind of advantage you can achieve with our B2B database, why not try our free samples and try it out for yourself. Start liaising with the experts in the field today!
Give your business the royal touch!
What's even better is that if you choose your product for the region of Europe, you can rest easy knowing our product is 100% GDPR compliant! How relieving is that?
Order today!
0 Reviews for Beauty Salons Email List - Hair Salons Database & Mailing List with Emails
-44%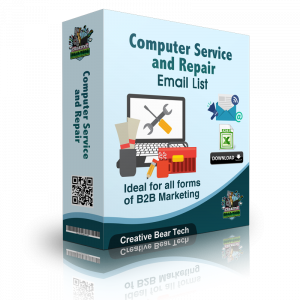 Computer Service and Repair Email List and B2B Sales Leads
£500.00 £900.00
-44%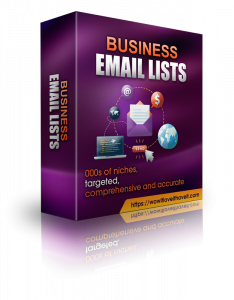 Wire and Cable Mailing Lists and B2B Database with Email Addresses
£500.00 £900.00
-44%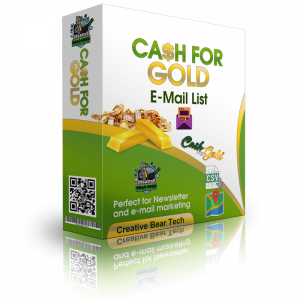 Cash for Gold - Scrap Gold Buyers Email List and B2B Marketing Data
£500.00 £900.00