The Best SEO Affiliate Marketing Program - High Paying Affiliate Program
The Best SEO Affiliate Marketing Program - High Paying Affiliate Program
Here is Why We Are the Best and High Paying SEO Affiliate Program
At Creative Bear Tech, we broadly provide two types of digital goods: 1) SEO and Lead Generation Software and 2) B2B Databases for Over 400 business niches.

Our average product price is £500 and our average revenue from one client is around £1,000 to £2,000. Unlike other SEO affiliate programs that sell their products for £20 or £50, with us you have a real potential to make one of the highest returns on the market.
Making Money with Us is Very Easy! Here's Our USP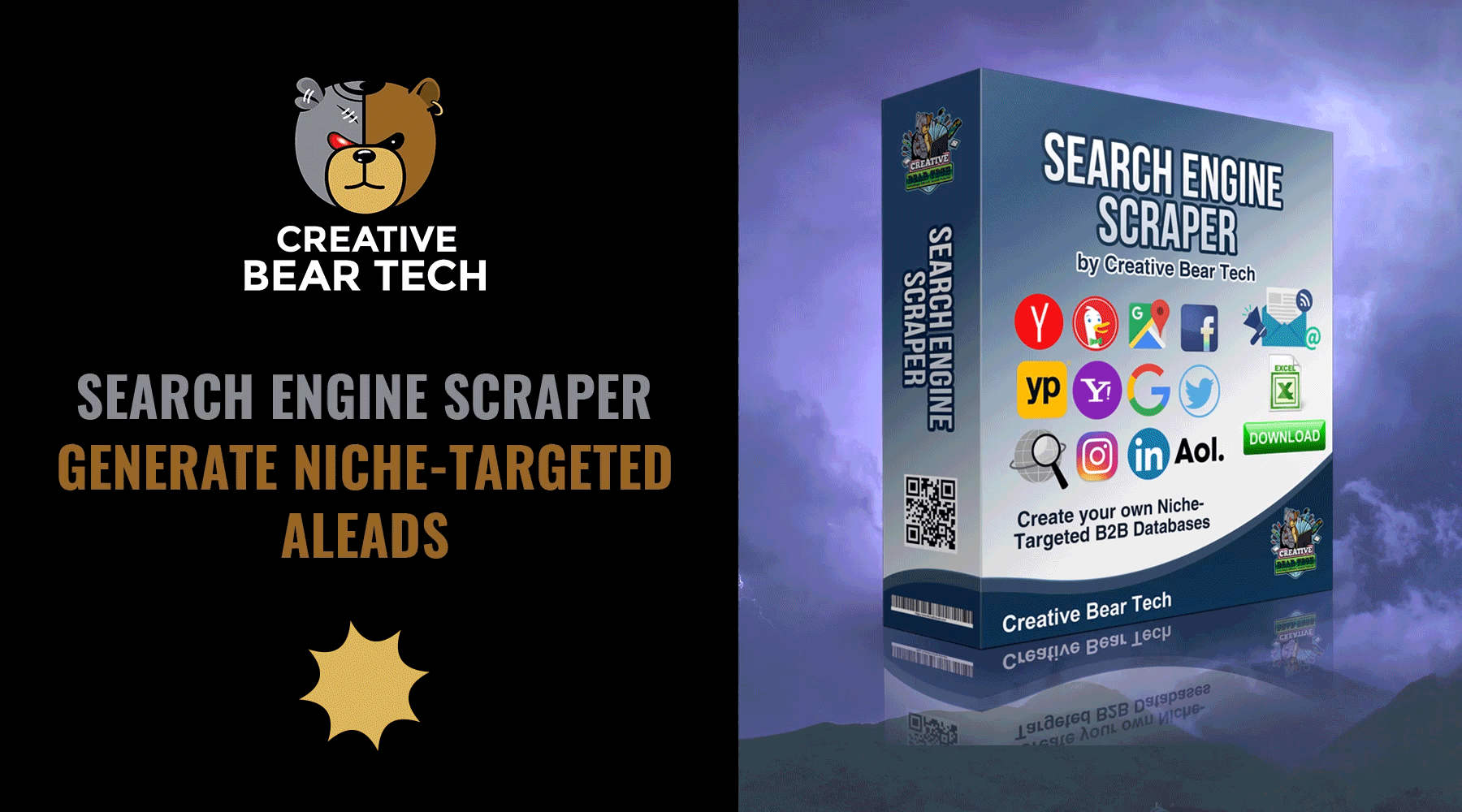 We are the brains behind the most Revolutionary Search Engine Scraper and Email Extractor
Everything that we do is very unique. Following almost 2 years of software development, we have managed to create one of the most powerful, accurate and cutting-edge B2B search engine scrapers and email extractors. As you will have no doubt noticed, there are many different scrapers on the market for different types of internet platforms such as: search engines (i.e. Google, Bing and Yahoo), Business directories, Google Maps, Social Media (Instagram, Facebook, LinkedIn and Twitter). The difficulty with such software is that you cannot produce centralised B2B databases that incorporate data from all the sources in one file. Equally, it is just too much work to run all the SEO and lead generation software separately. Here is where our Search Engine Scraper and Email Extractor comes in to fill the gap in the marketing: our B2B lead generation software is able to scrape sales leads from virtually all of the most popular internet sources you can think of in one place through a single software. Moreover, our tech wizards have added our proprietary content and domain filters that allow users to scrape niche-relevant sales leads. Let's face it, most scraping tools can scrape a lot of dirty data but not many can hone in on niche-relevancy. In fact, when using our 20 other email scrapers, our search results were full of irrelevant data and honey traps that only got our domain and IP blacklisted when sending out emails. This is precisely what has prompted us to develop this revolutionary search engine scraper that can scrape very relevant data. We are not going to overwhelm you with too many technical aspects of this amazing software as you can read them in this very comprehensive guide.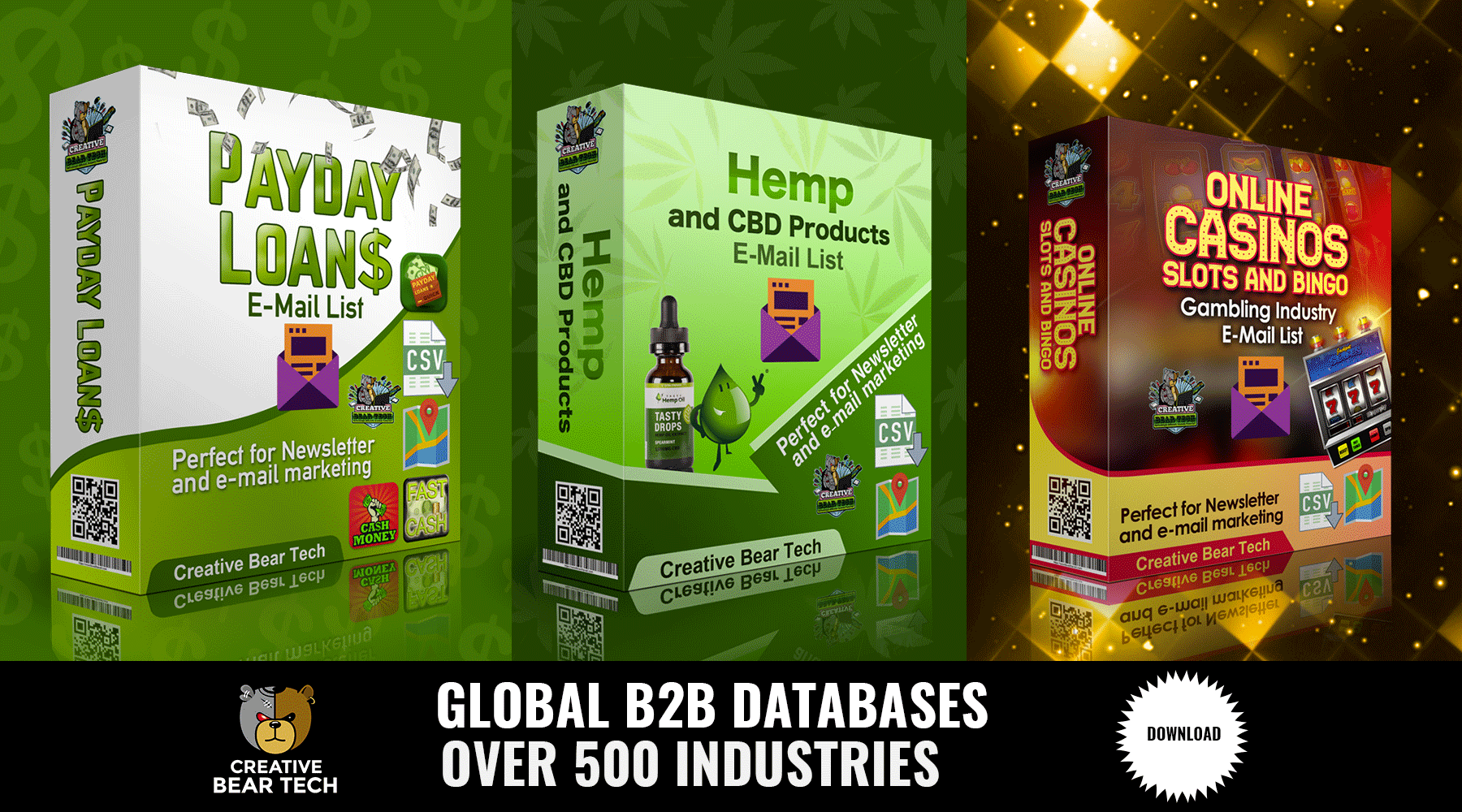 We offer B2B Databases and Sales Leads for Over 400 Industries Globally
Leading on from the above, we use our proprietary and cutting-edge search engine scraper and email extractor to produce niche-targeted databases. Currently, we have over 400 Global B2B Databases covering over 400 some of the most popular and hottest business niches in the world. We also provide custom B2B sales leads scraping. As a company, we operate across 6 different jurisdictions and have a state-of-the-art IT infrastructure with uber-powerful servers and thousands of dedicated proxies and remote captcha-solving services that enable us to scrape and clean B2B data at record times and with utmost precision.
The Takeaway: Almost ALL Types of Businesses will Need B2B Sales Leads
With us, you will not be selling yet another SEO course or a keyword research tool that nobody needs. You will be selling products that more or less sell for themselves. Every business that sells to other businesses is very reliant on business contact details. Without these contact details, a business will not be able to make any sales. We are simply connecting the dots between businesses.
Here are Some Ideas for Promoting Our Products Via Our SEO Affiliate Marketing Program
Blog Posts
When writing about a particular topic, you can always add your affiliate link to the post. Blog posts are usually very insightful and attract quality traffic.
Forums
Forum marketing is a very good way of promoting affiliate offers because it provides a perfect medium for starting a conversation. You can always mention our SEO software and B2B sales leads and drop your affiliate link in. 
Social Media Posts
Do you have a social media following? You can always add your affiliate promotion inside a post.
Video Marketing
As you may know, YouTube is the second biggest search engine after Google. YouTube is a very engaging and effective channel for promoting your SEO affiliate offers.
Newsletter and Email Campaigns
Do you have a list of subscribers? You can always contact them via email or newsletter with your SEO software affiliate program.
SEO Affiliate Banner Marketing
Still to this day, banner marketing remains very powerful because banners are visually appealing and can be placed in eye-catching places.
* Please note: it is considered to be a matter of good practice and an ethical consideration to inform people that you are advertising an affiliate offer and that it will not cost them extra. Such a disclaimer is more likely to do you more good than bad because most people appreciate honesty.
Here are some tips for sky rocketing your revenue from our high-paying SEO affiliate program
What Does a Business Need? Think about their target B2B Clients
It is important to start off with the premise that everyone needs B2B data and sales leads. What we do is more or less "matchmaking" on a B2B level. We are the matchmakers that bring businesses together. Before you promote your SEO affiliate offer, take every business on a case-by-case basis and think of their target B2B clients. For example, if we take a jewellery designer, their target client would be jewellery stores. If we take a shampoo manufacturer, their target clients would be beauty salons and supermarkets. If we take a payment gateway or payment processor, their target clients may be escort agencies and adult shops. If we take a fashion designer, their target B2B clients would be fashion boutiques.
Hone in on a Niche
From our practice, we would not advise you to adop a shotgun approach and promote our B2B sales leads to every business. Instead, take a couple of niches and focus on drafting your proposition to them. This way, you will be able to ensure that your message is relevant and highly-focussed. For example, if you operate within the CBD niche, you are likely to have a very good insight in this area and so, by contacting all the CBD stores with an offer to purchase a Global Vape Shop Database in order to sell their CBD products to them, you are more likely to be more trusted because you yourself operate within a CBD niche and another CBD company is more likely to trust a company that has experience within their industry more than a generic marketing agency. Finding your niche is key. Once you have found your niche, you will be able to personalise your communication and approach all the companies within your niche. 
You do not have to be a Marketer to Promote Our Marketing Products
Even if you are not a marketer, you can still offer our B2B databases and sales leads and software to companies operating within your industry. So, for example, even if you are a Vloger, Blogger, a social media influencer or an ecommerce store owner, you can still offer our products. For example, a vape shop called The Eliquid Boutique has been selling our Global Vape Shop Database for over two years now and they have made more in affiliate sales than selling their own products. The reason for their success is that they themselves operate within the vape niche and so, vape companies trust them more due to their vape niche focus. Similarly, you could market a B2B database that relates to your industry. And think about it for a moment, by default, you are very likely to attract the relevant target clients by doing nothing. Naturally, suppliers and wholesalers would check out your website, blog or social media channel and in doing so, they would see your SEO affiliate offer which is very likely to be very relevant to them. By way of an example, if you are a beauty salon, you could advertise a Global database of all beauty salons and if you are a vape business, you could promote an affiliate offer of the global vape shop database.